Pine Needle Creations by Sheri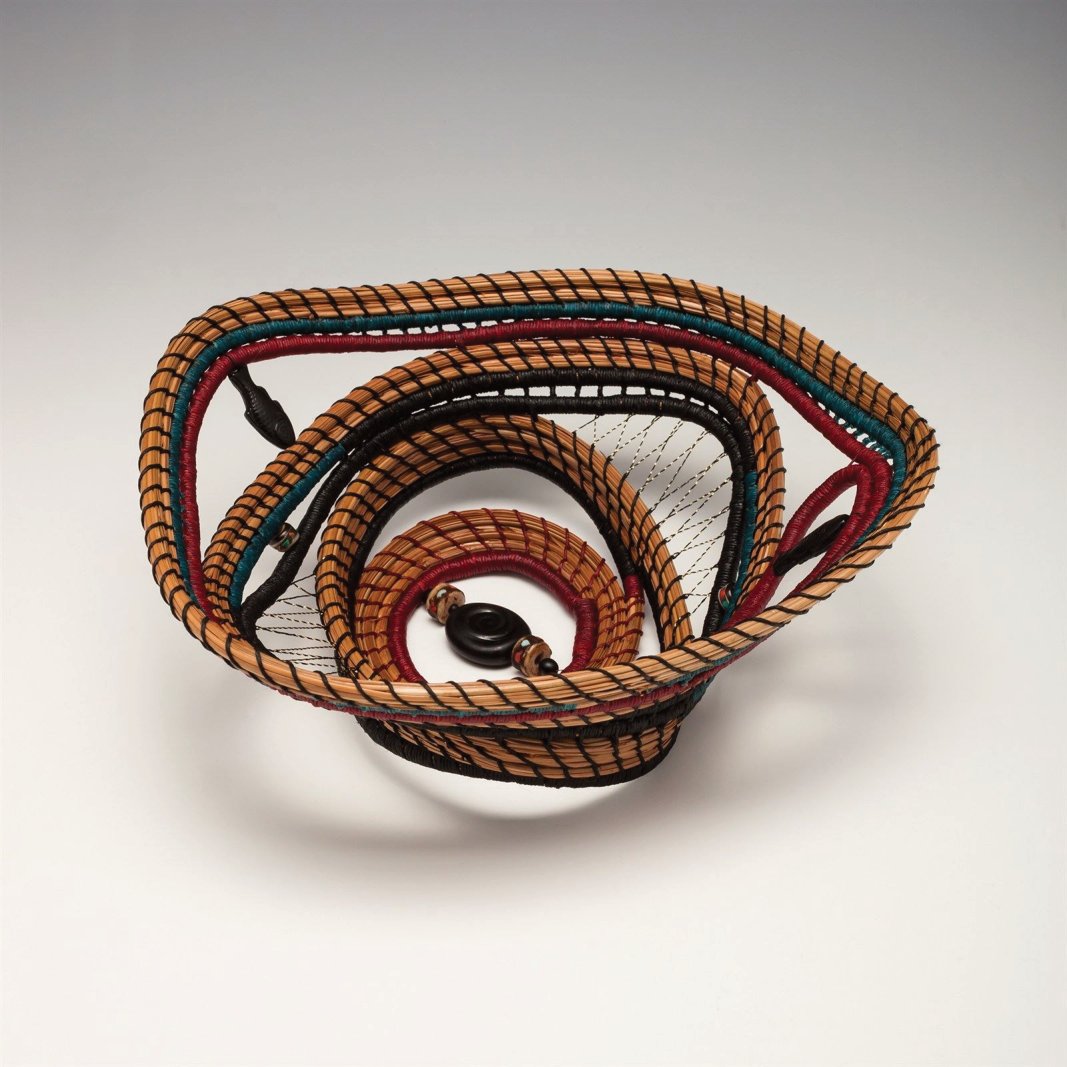 Just finished these 2 baskets and had a professional photographer David Edwards photograph them for me. The left one is "New Beginnings Fun" and the right one is "New Beginnings Pzaz" Also just found a woodworker Jeff Bandow to make some frames for my new shadow boxes. I need a name other than a shadow box to describe them, something catchy, not dreamcather though.
Anyone have any creative suggestions?rite your post here.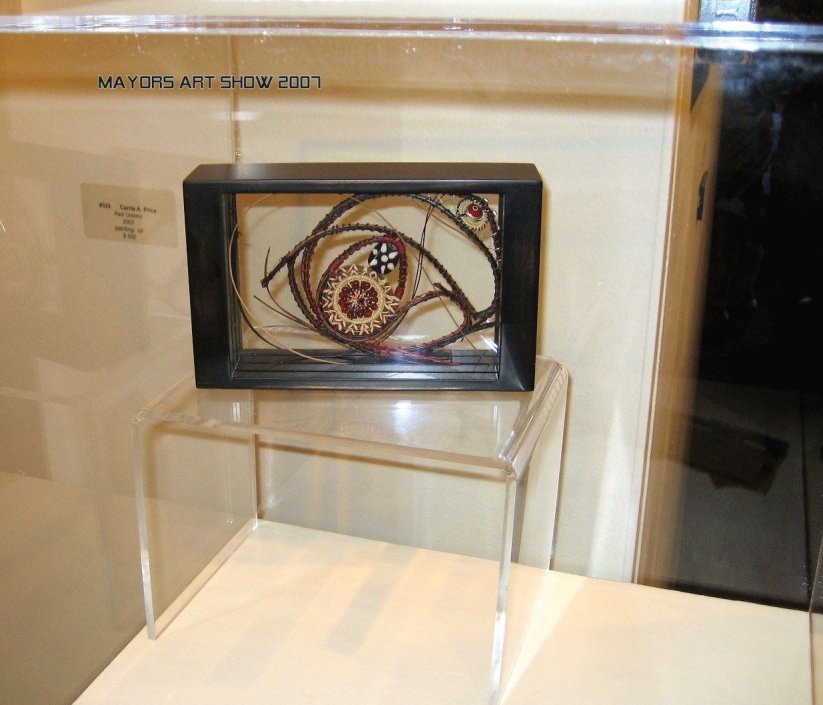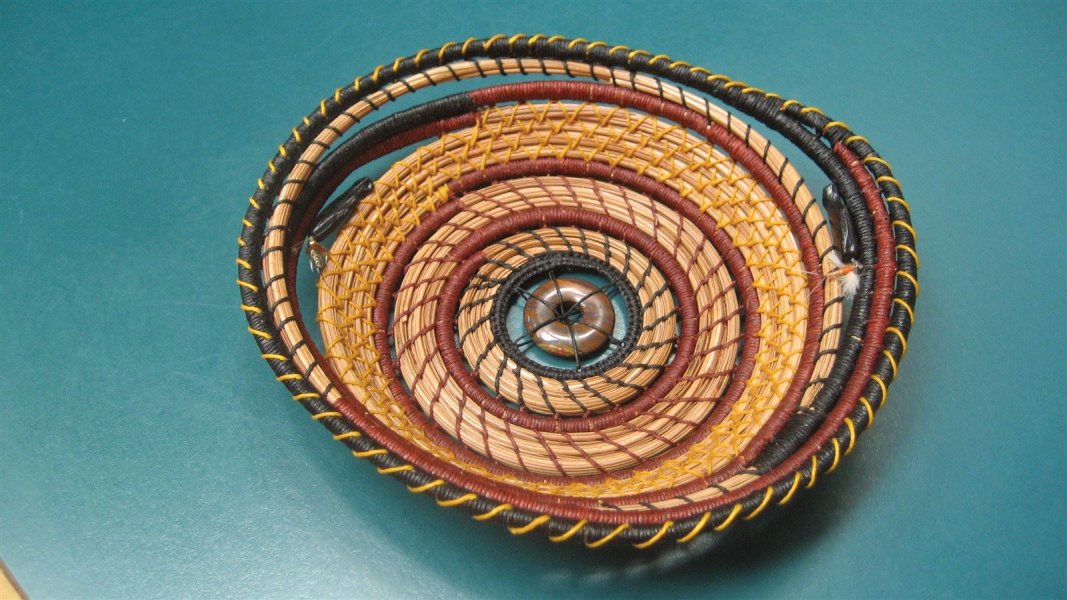 I am Sheri and this is my first blog about myself and making pine needle baskets.

It all started in 1980 when my sister-in-law Shelley showed me a pine needle basket she was learning to weave.

At the time her brother Randy and I were living across the river from Belknap Hot Springs Resort in Oregon, and I was pregnant with my first child Trevor. The only way to get to our home and private hot tub was by cable car. That is another story to be told later.......

Anyway, I bought the book "Pine Needle Raffia Basketry" by Jeannie McFarland and begun to teach myself how to coil baskets.

I had always loved making things with my hands. One summer when I was 13 I sold six dozen knitted purses to a department store in LA. I also had been consigning  mobiles made out of beads, shells and driftwood, but when I started working with pine needles and raffia, I was in love with the natural feel and smell of the whole basket process.

One basket led to another and soon I had a collection of basket books and baskets.

 Although I created  baskets with materials other than pine needles, it was the pine needles that seemed to call out to me.  My love of fibers, beads, glass beads, stones and wire wrapping all lend themselves together so well that mixing them really seems to work for me.

Write your post here.

 

 

 I am Sheri and this is my first blog about myself and making pine needle baskets.

It all started in 1980 when my sister-in-law Shelley showed me a pine needle basket she was learning to weave.

At the time her brother Randy and I were living across the river from Belknap Hot Springs Resort in Oregon, and I was pregnant with my first child Trevor. The only way to get to our home and private hot tub was by cable car. That is another story to be told later.......

Anyway, I bought the book "Pine Needle Raffia Basketry" by Jeannie McFarland and begun to teach myself how to coil baskets.

I had always loved making things with my hands. One summer when I was 13 I sold six dozen knitted purses to a department store in LA. I also had been consigning  mobiles made out of beads, shells and driftwood, but when I started working with pine needles and raffia, I was in love with the natural feel and smell of the whole basket process.

One basket led to another and soon I had a collection of basket books and baskets.

 Although I created  baskets with materials other than pine needles, it was the pine needles that seemed to call out to me.  My love of fibers, beads, glass beads, stones and wire wrapping all lend themselves together so well that mixing them really seems to work for me.

0

/