PINE NEEDLE CREATIONS​ ​​
Pine Needle Creations by Sheri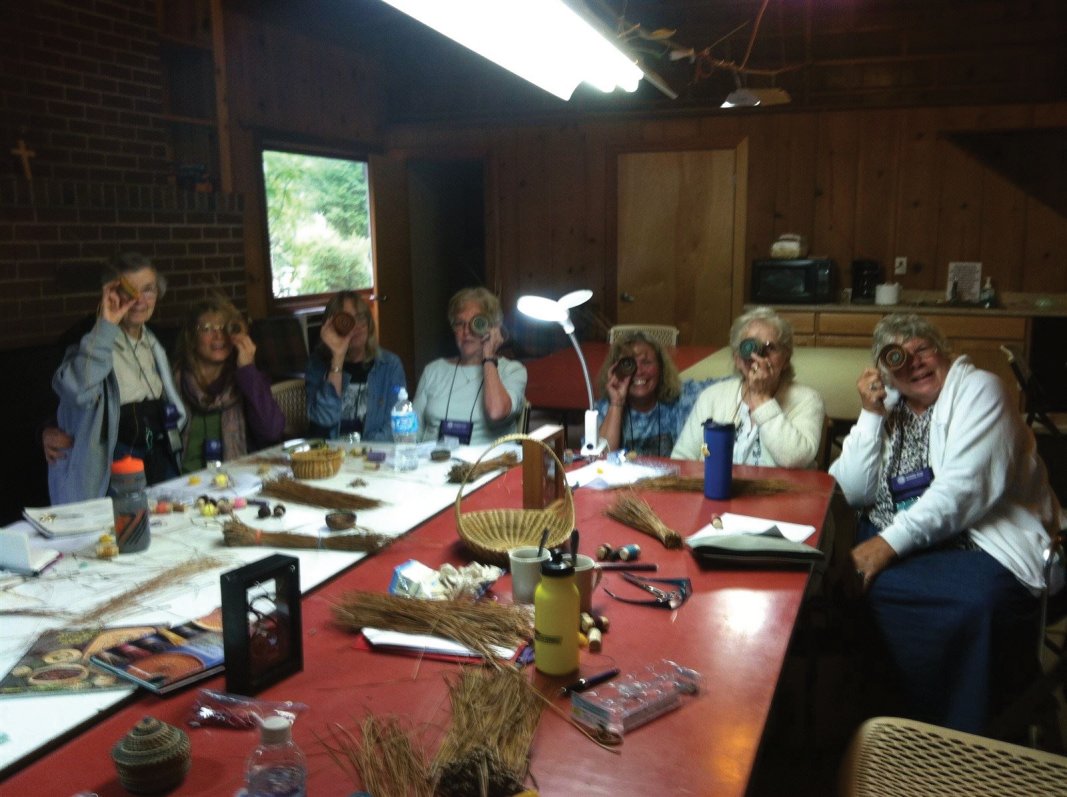 I spent this past weekend in Rockaway, Oregon at Camp Magruder for the Columbia Basin Basketry Guild Retreat.
There were so many amazing weavers there, some learning and others teaching their talents to others. So much great energy in one place.
Friday night was an open gallery, the theme was "It's Our Nature".
I had the pleasure of teaching these women how to make pine needle baskets on Saturday. A couple of them had made them before but wanted so new techniques and the rest were first timers, although you would never know it by their results.
On Sunday morning I traveled north to Cannon Beach before heading home. I stopped   in the Dragon Fire Gallery, where I had some of my work on display about 5 years ago. I was wearing one of the pine needle necklaces I made,  the gal behind the desk remembered my name and the art  I had for sale all that long ago. Amazing!
I hope to teach again next year and take some of the great classes they have to offer.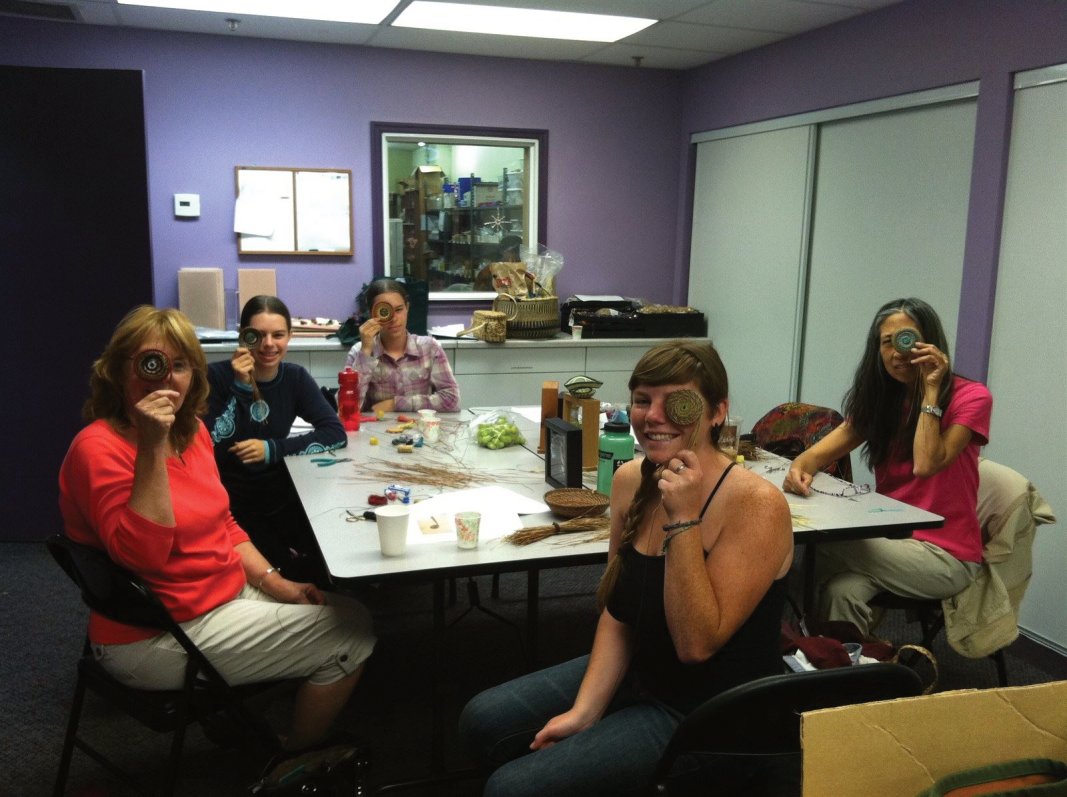 Another "Eye Like It" pine needle basket workshop day.
Everyone had a good time learning a new skill, and of course getting to know each other while we worked on a basket.
I had the chance to spend time with Donna, who has been friends with me through facebook for a while now.  Bardee, a friend I have known for years was also there and we got to catch up on old friends. The two 14 year old twins, were amazing and came up with new stitches as the day went on.
Molly, who has come to a few of the workshops came by to weave with us with her usual wonderful energy.
All in all another positive fun, creative day! Yah :}
May 4, 2013  Harlequin  Beads & Jewelry 10-6
1027 Willamette St.
Eugene, OR 97401
Pine Needle Basketry for beginners.
Cost: $65.00
In this introductory class, students will learn how to create colorful coiled baskets, using pine needles, waxed linen, seed beads and a donut stone.

Students will learn to coil and shape the pine needles with a variety of stitches: swirl, mariposa and wrapped stitch. You will complete your unique basket by the end of the class.

The skills you learn in this workshop can later be used to create necklaces, Christmas ornaments and sculptural pieces.

Class instruction is individualized, so the class size will be limited to 6 students.

Pine needles, wire ring, crewel sewing needle, bees wax and written instructions are included in the class. You will need to bring the following supplies, which can be purchased at Harlequin:


One 25mm donut stone
One color of seed bead
24 yards of 4 ply waxed linen (2 - 3 colors) 8 - 12 yards each

Please have your supplies purchased before the day of class, and bring a snack or sack lunch to this all-day class.
 Register at
  "Eye Like It"
That is the name I am calling the Ashland workshop. The women were all so great and full of creative energy.
As I always do, I tell my students that the class is not about having a "perfect" basket.
 Right before I took this picture I was showing a student that if you hold your basket away from you and not look too closely at it, you see all the beauty in it and not the imperfections. So as I was about to take the photo she  said lets hold the baskets up to our eyes and say "don't look too close". The setting of this workshop overlooks Ashland in a bright and cheery
studio. We had a great time and I can't wait to do it again!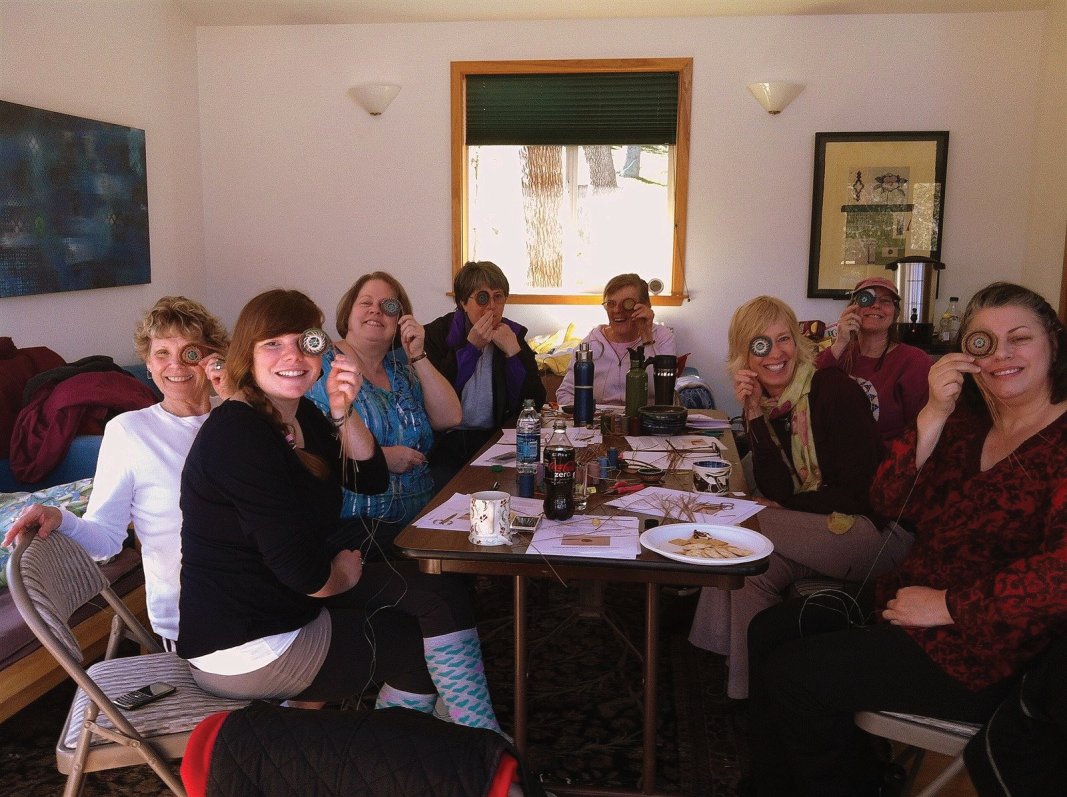 Ashland workshop March 9 has 3 people so far who have paid their $30 deposit, and a few more who have said they want to come.
 I am looking forward to the class. Each time I share my  skills with others it renews my excitement for my art. I love it!
Also looking forward to spending time with two of my high school girlfriends.
Pictures of my last workshop can be seen on my web page
Sheri
 .
    Every time I teach a pine needle basket class I revise the written instructions I hand out to the students. They are included in the cost of the workshop. I also share  my favorite pine needle basket books, the ones I learned from.
The written instruction has been revised at least a dozen times.  My workshops are hands on, and the written material seems to not be used during class time, but to be taken home for further projects.
The thought of publishing a handbook has crossed my mind many times and today I decided I will
begin this process.
   I will keep you posted on my progress.
   As I  said in my last post, the description "Pine Needle Basketry" does not seem to describe with the feeling I have for what I do. Any new suggestions?
HAPPY WEAVING
   I will be teaching my next workshop at "The Eugene Textile Center", on February 9th from 10 -5. The cost is $65 which includes all materials to create a beautiful basket like the one below. For more information, go to my web page
www.pineneedlecreation.com
and check out the workshop page.
/