PINE NEEDLE CREATIONS​ ​​
Pine Needle Creations by Sheri
As I wrote before, I started weaving when I lived at Belknap Hot Springs. My sister in law, Shelley Smith had started a pine needle basket and showed me how to weave a pattern on a wire ring and how to add pine needles. The rest I learned from books and lot of practice.
Now I will be teaching a class at the Lodge at Belknap Hot Springs, where it all began.
Life for me has come full circle, and so it seems right that this process of starting a basket will start with a round wire ring.
The class is on February 10th  9-5
$65 includes all materials to complete a basket that will take you on a journey. For me a journey that has gone on for almost 30 years. A journey that has included hot springs water, the love of the outdoors and connecting with people to inspire me and whom I hope to inspire!
Bring a bathing suit. Our favorite line when we lived at Belknap Hot Springs was,"always in hot water"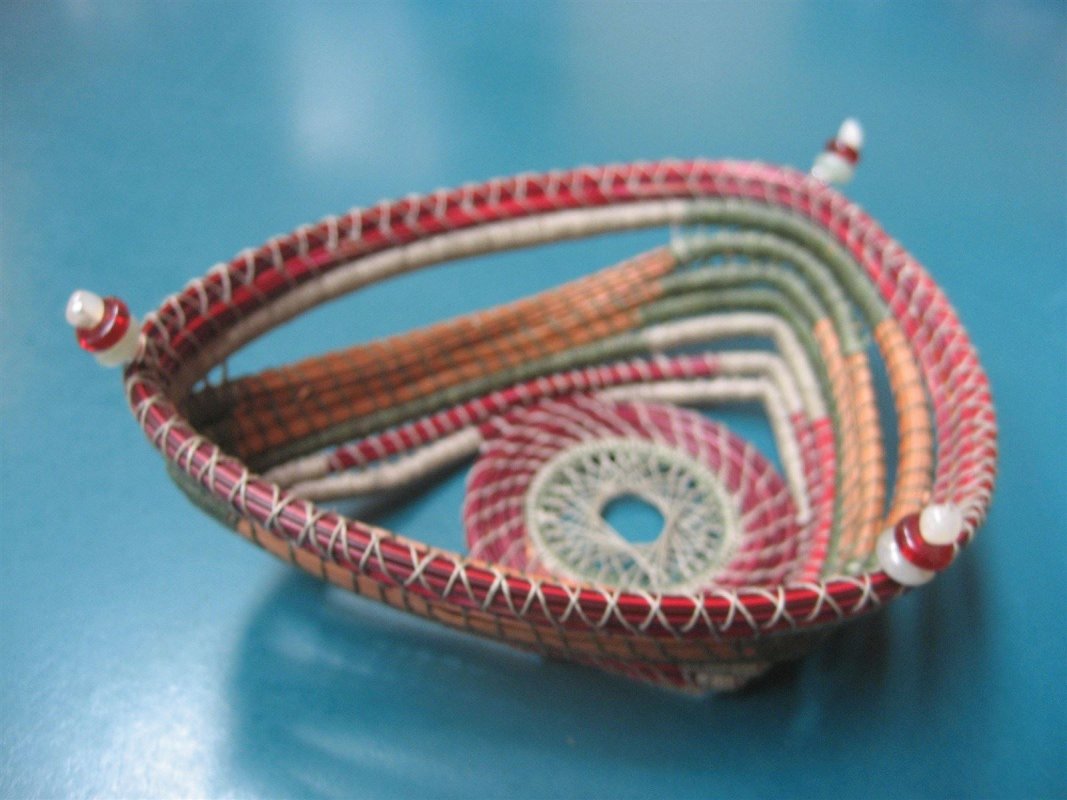 Life comes full circle.
I have some of my pine needle creations on display at "Belknap Springs Resort" . 
 My basket weaving started when I lived across the river from the resort. It was a magical time of life to have your own private hot springs pool right out your front door. I would start the day  with a cup of coffee in hand, outside in hot water.
This was before my children were born and life was simple, plenty of time for my creative juices to flow.
Well life has had many changes since 1980. Although I still only live a few miles from Belknap Springs in a secluded place, I no longer have a private hot springs pool in my front yard.
I now again have plenty of time to weave. After working at "Holiday Farm Resort" for more that 10 years, it burnt to the ground this past April. I lost all of my weaving s in that fire, and a large part of my life . Well with loss comes gain.... I now have more time to make pine needle creations and to teach others how to as well!
If you get to Belknap Springs Resort to take a soak check out my work and walk across the bridge down stream to see where my basket roots began.
Back in the 1980's we lived across the McKenzie River from Belknap Hot Springs. This cable car was the only way we had to reach our piece of heaven! The newer bridge at Belknap was built after we moved on.
My former husband Randy Smith started building this house before I met him in the 70's. First he had to build the cable car to start the house. His great grandfather bought Belknap Hot Springs and 160 acres in 1907.
You can see  my son Trevor, then about 4 or 5 playing in the hot water if you enlarge it.
I had started making pine needle baskets when I was pregnant with him. He is now 27.
My mom,  is  taking a soak on a visit from Los Angeles.
 When I moved in, there was no plumbing, plenty of hot water from the hot springs to keep us clean, and warm in the winter.
We had both our kids there,( by that time Randy has installed indoor plumbing).  We generated power with a Pelton wheel from the cold spring up the hill.
Anyway, this is where my weaving began, pretty amazing place! I do miss living there, but can have a message by Ron Snider, who now has his message studio in what once was our bedroom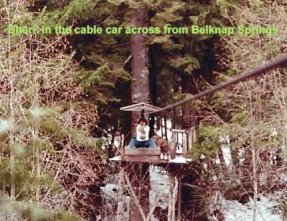 /