PINE NEEDLE CREATIONS​ ​​
Pine Needle Creations by Sheri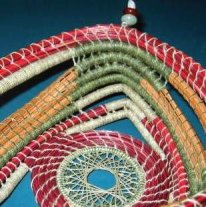 Good Morning,
Check out the interview  I did last week for "Create! Eugene  / Eugene A Go Go".  on the  link below .
   On a  recent day when the sky was filled with clouds and the leaves were blowing in the wind, I spent the day shopping with a friend in a small artsy town. We were in the parking lot of a converted church turned into an art gallery when I spotted some amazing reddish type pine needles or some sort of plant matter under foot. They are only about four inches long, but of course I had to pick them up and take them home for a new weaving project.
After seeing many shops decorating for the holidays, I had the inspiration of starting a line of table decor.
So many ideas, so little time.
Happy weaving!!!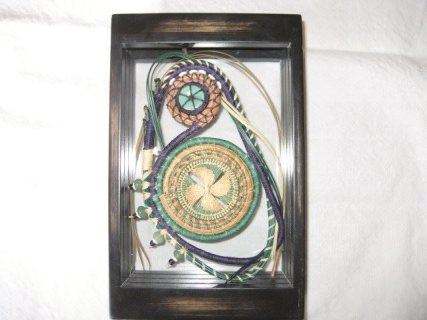 I just finished a pine needle sculpture that floats between glass panels in a wood frame, making your wall or table come alive. It is called "Mother and Child" and is made of pine needles, with an intricate woven center, Jade donut, shell beads, stones and mixed fibers. This is the first box I have made since March, and I will be making many more.
After waking up at 2 a.m. and not being able to sleep, this vessel still on the table where it had been unfinished for a couple of weeks, not really knowing where to go with it, I  finally completed it four hours later. Not too happy about the end result, but now I can move on!rite
"New Beginnings" "2 a.m."
/