PINE NEEDLE CREATIONS​ ​​
Pine Needle Creations by Sheri
     It has been an exciting couple of weeks here at Pine Needle Creations.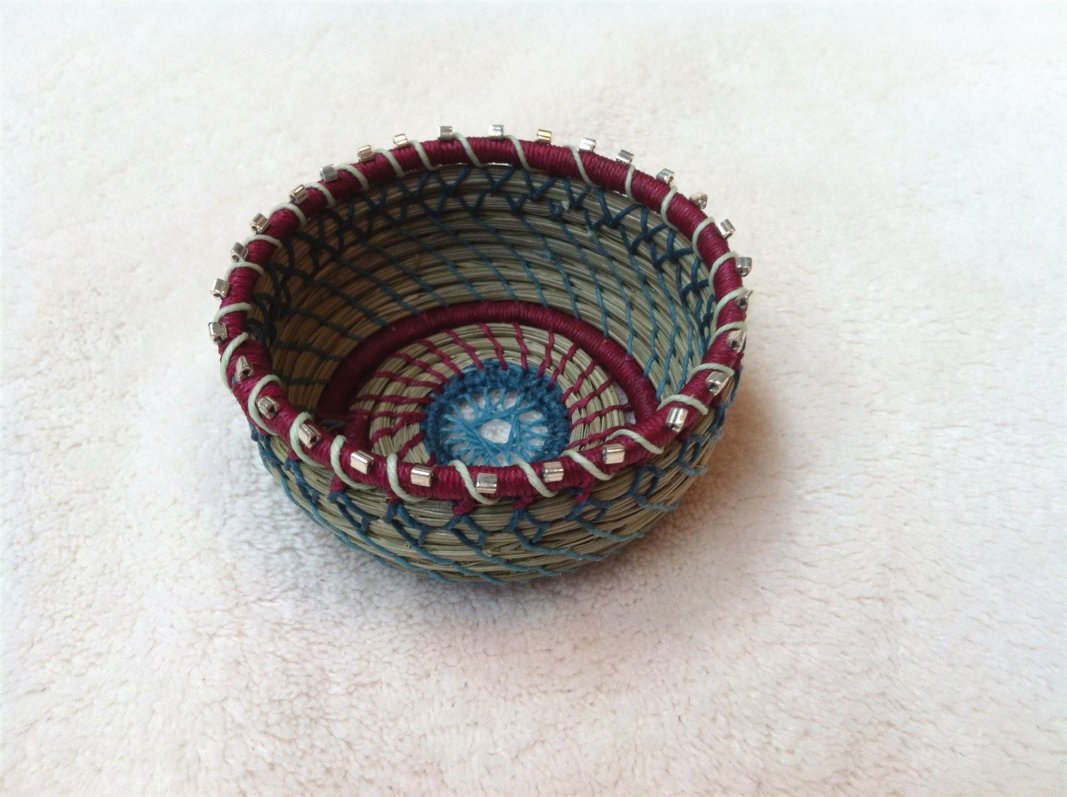 Last week I was informed that the poster for the First Friday Artwalk in Eugene had a great  photo of my baskets on it!  I was a featured  artists at Harlequin Beads & Jewelry on that Friday August 2nd.  The turnout and response to my art was a delight. 
As you can imagine, one of the posters  is framed and hanging on my kitchen wall.
   Just a couple of days ago, I was  told that one of my  pieces was selected to be in the Mayors Art Show in the Jacobs Gallery in Eugene, Oregon. Opening night is August 22nd and it goes through October 5. Come on by and see which one was chosen. The basket pictured here is not what will be at the Mayors Art Show.
   A few of my baskets made it on the shelves on Lori Salisbury Gallery located at 391 West Cascade,  Sisters Oregon. The gallery features art that tells a story.
   I am working hard, (if you can call it work) at getting a good supply of my art to show at the McKenzie River Art Festival  August 17 & 18th in Leaburg Oregon.
 Along with making samples for classes, there is  publicity for  the workshops, emails, facebook updates, web page edits. 
Life is busy. That makes me happy!
Last Night was the First Friday ArtWalk in
Eugene, where I was a featured artist along with three others at Harlequin Beads & Jewelry.
Family, friends and new faces were there to cheer me on and admire my work.
I had a sign up sheet for people who were interested in taking a workshop and had many
people sign it!
I was asked what inspires me.
Well sometimes it is a combination of colors, like last night this women had on a beautiful Purple pair of pants with a lime green shade of blouse.
It can be something as simple as that. Color, Shape, texture, technique. So many options, so little time.
I guess I better get off the computer and start a new project..............................................!!!

Last night we attended the First Friday art walk in Eugene, along with an event at Cozmic Pizza of longtime McKenzie  residents telling their stories of the river hosted by the Mckenzie River Trust.
Starting the evening leaving a platter  of fruit at the New Zone Gallery where I am showing my newest free form pine needle sculpture  we ventured out to see the "McKenzie Memories" show.
The line to get in was overflowing into the street, which gave us time to  visit with neighbors.
 Hearing the speakers and seeing short films narrated by Dave Helfrich and Leroy Pruitt of the good old days made me feel even more blessed of being a part of this community since 1973.
    I will be showing my work on November 10th 12-7pm at Event58 Artist Link5
    35831 Hwy 58 Pleasant Hill Oregon
    visit our blogspot
    After a trip to Hawaii, my new work will include Ironwood pine needles that grow
    along the beaches there. I also am using coconut husk and shells I collected as I   sat on the beach working on a basket. So inspiring!
    Has anyone used Ironwood needles in their weaving s?
/